Welcome to Hunter Valley Horses!
Our horse riding, horse drawn carriage tours and farm tours are sure to entice you to the beautiful Hunter Valley. Find a tour to suit your needs so you can experience the beautiful views, country fresh air and award winning wine. Our friendly staff, beautiful horses and comfortable carriages make a great relaxing day out with family and friends. Children are also welcome on our tours, so come and relax with us today in the Hunter Valley.
Our horse-drawn carriages travel at an easy pace and take you on an exploration of Hunter Valley Wine Country that will tantalise your senses. Our tours allow time at each venue to savour the rich and delicate flavours of local wine and produce including cheese, olives and so much more.
Hunter Valley Horses also offers horse riding for all levels - we have a horse to suit everyone. Our trail rides will take you through bushland and local vineyards with amazing views to the Broken Back Ranges. We are located on the grounds of The Hunter Resort, at 917 Hermitage Road Pokolbin. Turn into The Hunter Resort and follow the signs to the Adventure Centre.
We look forward to meeting you and your family!
Meet Our Team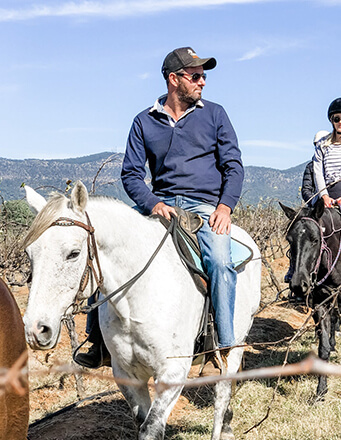 Scott Googe
Owner
I worked on a remote Queensland Cattle Station as a teenager for a few years after which I worked as a Stallion Handler. I started Hunter Valley Horses about 15 years ago after working for and purchasing other local carriage tour companies.
Farron Taylor
Supervisor - Senior Trail Guide
Farron Taylor
Supervisor - Senior Trail Guide
Kelli Allgood
Tour Manager - Horse & Carriages
Kelli Allgood
Tour Manager - Horse & Carriages
Steven Billington
Supervisor - Horse & Carriages
Steven Billington
Supervisor - Horse & Carriages
Mariah Hartley
Supervisor - Senior Trail Guide
Mariah Hartley
Supervisor - Senior Trail Guide
Taylor Marjoribanks
Tour Guide / Horse Riding Instructor
Taylor Marjoribanks
Tour Guide / Horse Riding Instructor
Casidee Sharp
Tour Guide / Horse Riding Instructor
Casidee Sharp
Tour Guide / Horse Riding Instructor
Zahlia Weatherill
Tour Guide / Horse Riding Instructor
Zahlia Weatherill
Tour Guide / Horse Riding Instructor
Jesse Bowskill
Junior Tour Guide / Horse Riding Instructor
Jesse Bowskill
Junior Tour Guide / Horse Riding Instructor
Lloyd Broadfoot
Tour Guider
Lloyd Broadfoot
Tour Guider